Strengthening of Producers Associations in Bolivar
Colombia
Project under implementation
Description
Technical and Institutional Strengthening of Mango Producers Associations in the Municipalities of Santa Catalina and Santa Rosa de Lima, Department of Bolivar.
The project promotes partnerships, governance, and leadership best practices of mango hilaza producer organizations, and encourages technified growing and harvesting of organic mango hilaza in the department of Bolívar, Colombia through public and private partnerships.
The research and identification of strengths and weaknesses of organic mango crops are key factors in motivating producers to maintain and optimize harvesting best practices.
The project supports and accompanies producers in order to guarantee compliance with the quality standards required by POSTOBON. Additionally, it advises on the creation of demonstration farms and harvesting and packaging processes of mango hilaza for its commercialization.
Project purpose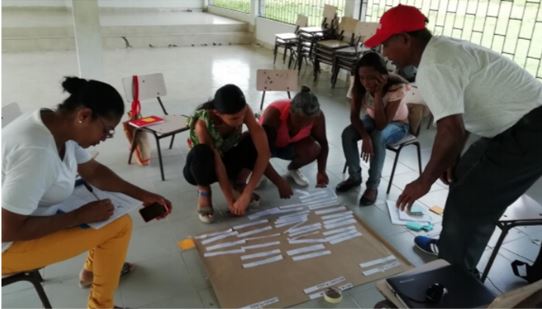 The project seeks to strengthen the governance of mango producer organizations, and encourage the automation of organic cultivation of mango hilaza in the municipalities of Santa Catalina and Santa Rosa de Lima - department of Bolívar. This objective will be developed into two components: Component I- organizational strengthening, phase 2, and component II -TechnicaL strengthening of organic mango hilaza crops.
Project goals

Work with two (2) mango producer organizations, one per municipality

Hold eight (8) assemblies of 30 participants, putting into practice the phase I training.

Carry out two (2) roundtables, to reflect on their current practices thanking into account the content addressed in phase I training.

Visit six (6) institutions (Public-Private), to create awerness regarding the need to promote and accompany the association of fruit growers in the region.

Establish public-private alliances in the area to contribute to the sustainability of the project.

Train two (2) associations and independent growers in the phytosanitary management of the organic mango hilaza crop and positioning it on the market under the required standards of its potential client Postobón.
Main achievements
50
The technical support received has allowed at least fifty (50) growers to become more aware of the adoption of the best organic harvesting practices, with the advice of agricultural technicians.
Structure
1
Technical Strengthening.
Identification of the strengths and weaknesses.

Technical advice to mango producers.
Demonstrative seedbeds. Organic Cultivation.

Collection and packing. Technical standards.
2
Organizational Strengthening.
Assemblies

Roundtable with the allies and leader.
Accompanying actions of strengthening.
Construction of public and private alliances
Improvement of the organic mango commercialization.
Which of the following SDGS (Sustainable Development Goals) this project support?