The OAS Secretary General Calls on Member States to Consolidate their Democratic Efforts in the Region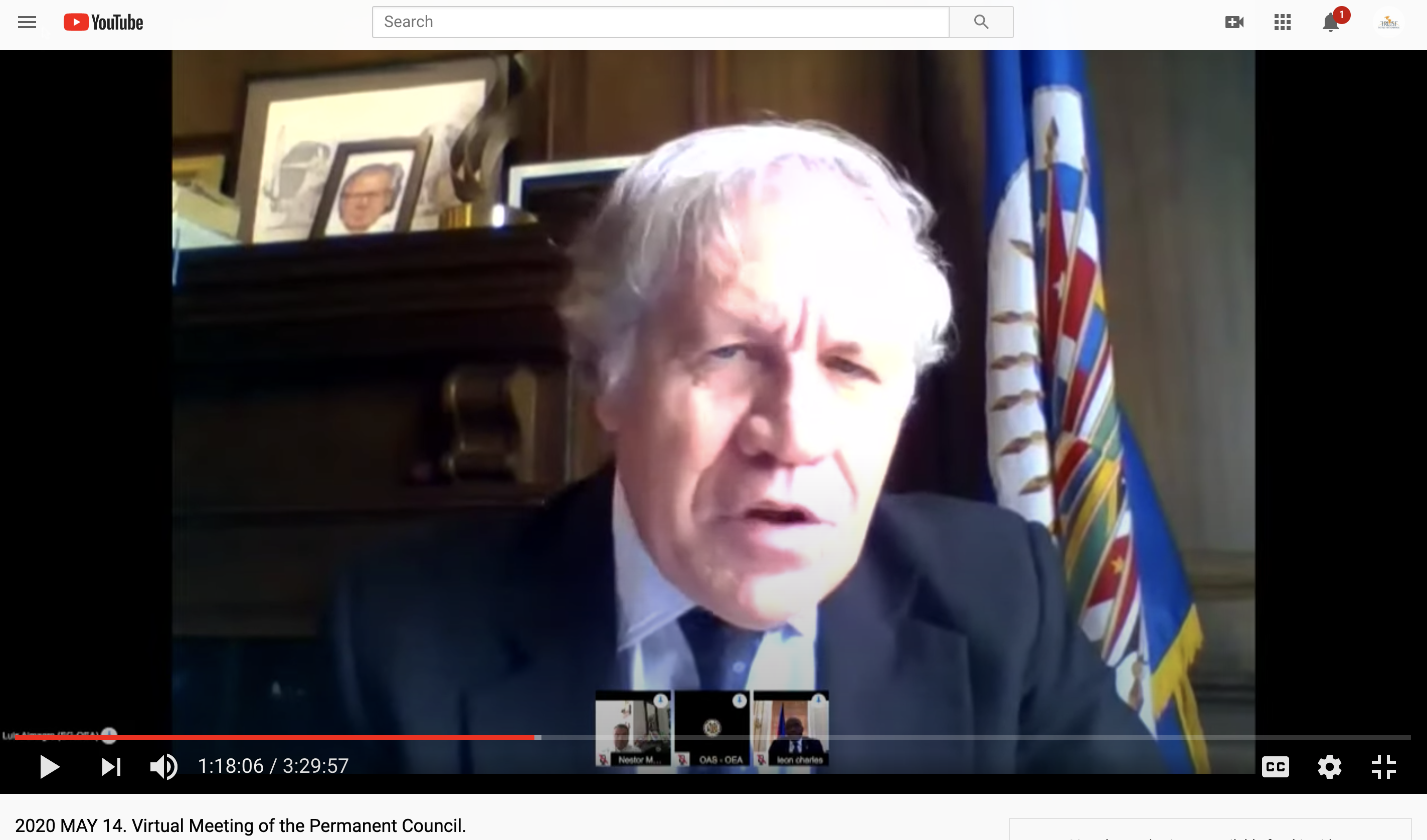 May 14, 2020. Permanent Council of the OAS via Youtube Live
Washington DC, May 14, 2020.- During the Permanent Council of the Organization of American States (OAS) session, OAS Secretary General Luis Almagro called on Member States to work together in favor of democracy in the region.
Almagro emphasized that "each of the countries and member states may today have the Trust as a reference for the development of projects that deal with different institutional capacities and transparency at the level of the political systems and the hemisphere, innovation in government management, construction of public policies, focus on open government programs, these are all citizen participation and accountability initiatives. "
In order to face the pandemic from a perspective of human rights and democracy, we must foster alliances of the public and private sectors and involve governments to work together with citizens and strengthen levels of public trust.
"Transparent management and responses by governments are elements of democracy that we must promote; transparency and citizen participation are elements of democracy that we must ought to. Transparency and citizen participation make essential elements of democratic legitimacy and reducing corruption is definitely one of the key points in the context of government purchases in the context of the pandemic, "said Secretary General Luis Almagro.
The Trust for the Americas supports Open Government and the regional governance and transparency agenda through:
Training of public servants and strengthening of civil society

Development of multisectoral collaboration mechanisms (civil society, private sector, academia, media, local and national governments)

Capacity building and awareness in Open Government and open data

High-level events

Activities with government officials and representatives at the Executive, Judicial and Legislative levels, as well as municipal authorities
The Permanent Council brings together 35 member states of the hemisphere. During the May 14th edition, a completely virtual meeting, it was determined that public-private alliances are fundamental to democratic resilience; especially when the entire region faces a state of emergency.
Permanent Council Video: https://youtu.be/2noikhJjYLo?t=4951