The Global Community Day Ideathon, an opportunity to nurture Caribbean innovation and volunteering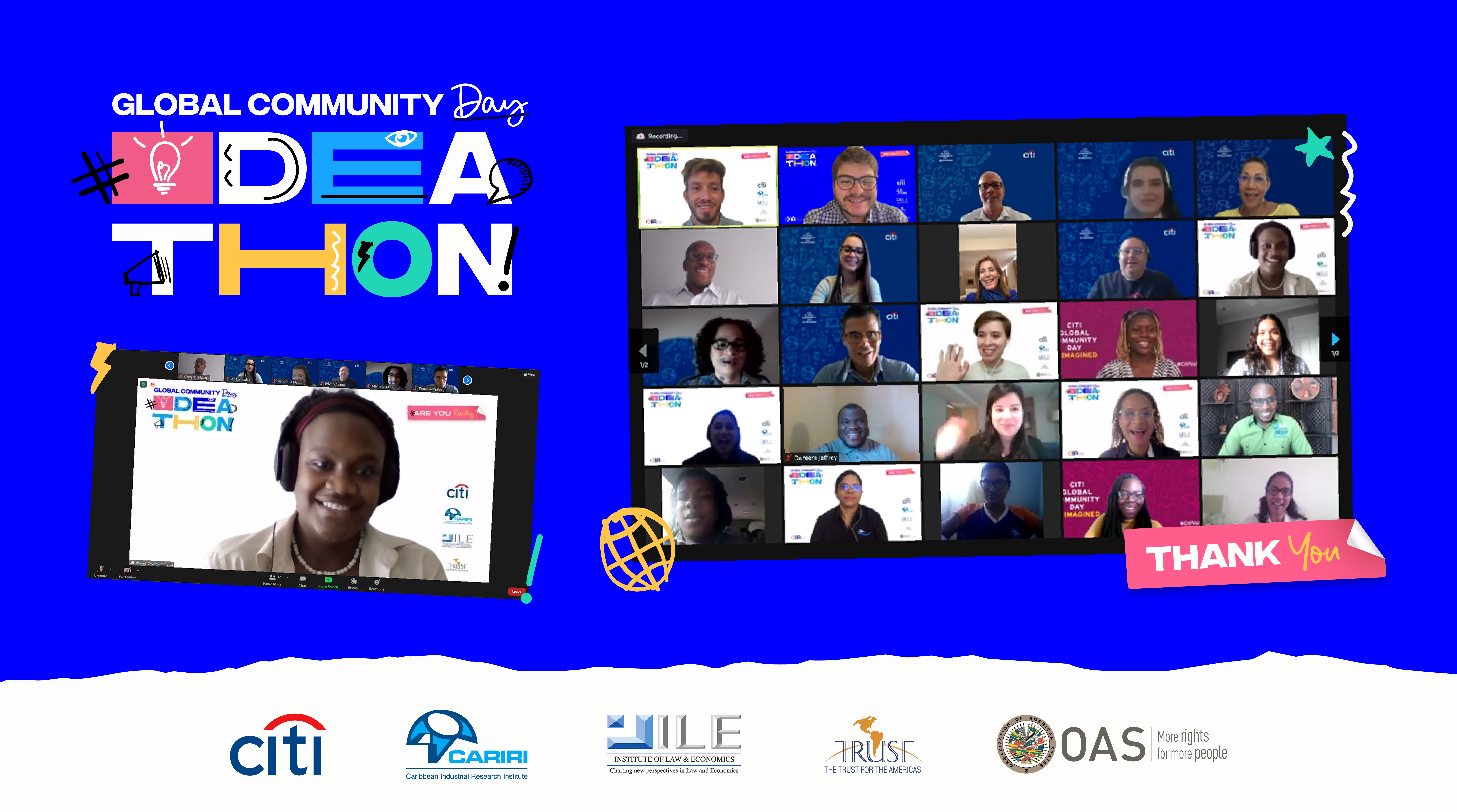 Washington, DC – The Trust for the Americas, in partnership with Citi, the Caribbean Industrial Research Institute (CARIRI) and the Institute of Law and Economics (ILE), held the virtual event "Global Community Day Ideathon" to foster innovation and volunteering in the Caribbean. The goal of the Ideathon was to engage beneficiaries from the DIA Lab for Youth Innovation in Jamaica and Trinidad & Tobago, alongside Citi employees, to collaborate in a brainstorming session that sought disruptive solutions to everyday problems affecting their communities.
This initiative is part of the activities within Citi's annual corporate-wide day of service, Global Community Day, where team-building opportunities are generated to allow employees to make a direct and meaningful contribution that help to address a range of community needs—from mentoring low-income youth to conserving parks and educating people about the value of protecting healthy and sustainable ecosystems.
The Ideathon counted with the participation of Mr. Mitch De Silva, Trinidad and Tobago's Citi Country Officer, Mrs. Eva Lewis, Jamaica's Citi Country Officer, Ms. Linda Eddleman, CEO of The Trust for the Americas, and Ms. Shanae Owen, Project Officer at the Institute of Law & Economics Jamaica. Rodrigo Iriani, DIA's Senior Program Manager at The Trust for the Americas, served as host.
"After the challenges we faced with the pandemic, it is a good time to reflect on the importance of volunteering and giving back to make a change. This Ideathon is an interactive collaboration to really help develop the whole ecosystem of the community", shared Linda Eddleman, CEO of The Trust for the Americas.
During the hour and a half session, the participants —5 youth from Jamaica, 5 youth from Trinidad & Tobago, and 10 employees from Citi— worked in groups of five to come up with creative solutions, based on economic development, innovation, use of technology and entrepreneurship, to tackle local issues regarding climate change and the environment, gender equality, agriculture, and sustainable tourism.
This collaborative environment allowed attendees to discover key partners such as government agencies, NGOs, civil societies entities, and even media influencers to contribute to the following identified problems: lack of funding for eco-based companies or service providers, low literacy rates among farmers, food waste in all-inclusive local hotels, and the inequality of rights and opportunities for women and girls to fulfill their potential.
One of the participants, Olivia Shaw-Lovell from Jamaica, emphasized "the need to attack gender power imbalance with empowerment, and early education and guidance around cultural norms and stereotypes. It is also important to address the situation from four main levels: Government, through public policies that include marginalized communities with a focus on gender equity; Parents/Adults, with parenting sessions; Teens/Young Adults, through a Caribbean wide social media campaign; and Children, using interactive games that show women in non-traditional roles."
"The Global Community Day Ideathon is a clear example of what we can achieve if we work together. Look at the innovative solutions that emerged from this short session and imagine the reach, and the change we can make if we collaborate more often. I'm sure entrepreneurs are going to benefit from opportunities like this, and I look forward to the stories that will be written in the DIA Labs", shared Mitch De Silva, Trinidad and Tobago Citi Country Officer.
Through state-of-the-art technology and digital and entrepreneurial curricula, the DIA Lab for Youth Innovation seeks to empower citizens for social change. "DIA - Democratizing Innovation in the Americas is a regional program with a multi-stakeholder approach, inviting public officials, youth, academic institutions, and international agencies to use collective intelligence to achieve transformation", concluded Rodrigo Iriani, Senior Program Manager of DIA at The Trust for the Americas.
Since 2017, Citi and The Trust for the Americas have launched a DIA Lab in both Jamaica and Trinidad and Tobago. From 2017 to 2020, over 1,973 young people have been directly benefited from the labs, acquiring digital skills: crucial to solving challenges in their communities and creating economic opportunities.
---
About The Trust for the Americas: 
The Trust for the Americas is a non-profit 501(c)(3) organization affiliated with the Organization of American States (OAS). It was established in 1997 to promote public and private sector participation in social and economic development projects in Latin America and the Caribbean. Our initiatives, implemented through local partner organizations, seek to improve access to economic opportunities as well as to foster innovation in vulnerable communities in the hemisphere. To this end, The Trust also promotes social inclusion and good governance. The Trust has offices in Washington, D.C., Colombia, and Canada. 
More information: www.trustfortheamericas.org  
Facebook: The Trust for the Americas  Twitter:   @Trust4Americas 
Jamaica
-
Trinidad & Tobago